Amenities When You Stay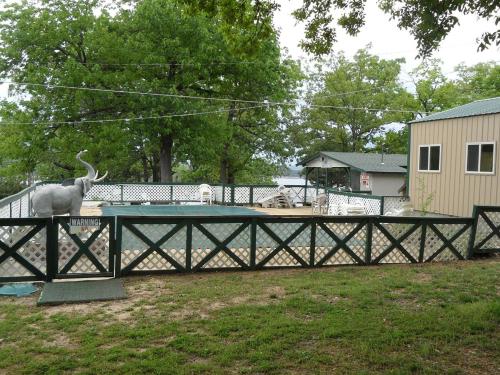 Recreation Hall
The recreation hall is a comfortable meeting place for both large and small groups. It has free billiards, shuffleboard, foosball, and video games - a favorite among the kids! Right outside is the pavilion, playground, and swimming pool.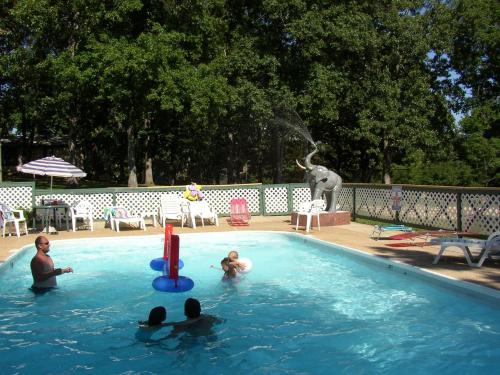 Pool
Our 20'x40' swimming pool is a great way to relax. Umbrellas, tables and loungers for everyone! Open Memorial Week through the beginning of September.

Pavilion
The pavilion is right next to the pool, for those who want to stay out of the sun but be near friends and family. Large groups may reserve it for a family dinner or other activity.
Miniature Golf
We have added a 9 hole Mini Golf Course, free for all guests to use! Get your clubs and balls at the office.
Boat Dock And Trolley
Whether you would like to fish, swim or watch the waves roll by, you can do it right from our dock. It has a large swim platform and sun deck, so you can enjoy the sunny days and clear waters of the lake. With 12 covered stalls there is plenty of room, even for the largest boats. You can find many species of fish right off the dock! And there is no need to walk or drive to the dock, our electric trolley will take you and your gear right down to it. For more information about fishing or our dock, go to the fishing page.

Hiking Trails
Just below the cabins on the way to the dock you can hike along the newly extended "David's Trail". Go north all the way to Red Bank or take the less strenuous route to the south for a great mile and a half circle back to the cabins.
Laundry
We also have a guest laundry if you need it. The 24 hour laundry has a coin operated washer and dryer.
Office/Store
Forgot something? While we stock ice and a few emergency items, the 101 Grocery is the place for your live bait and those items you may have forgotten. It is just a mile back to the highway. For stocking up, Wal Mart is just 12 minutes away in Mountain Home.